On Friday, July 29th, 2022, I had a really emotional, and truly informative day in Canterbury. It was the launch of a brand new Chemotherapy medical unit which bears Caron's name.
I know that Caron would be amazed and thrilled that a mobile unit like this is serving the County of Kent, and the many people who will have Chemotheraphy treatment on their door step, as opposed to travelling many many miles to Hospital.
Many thanks to Tina Seymour CEO and everyone concerned. And for the record, I am very proud and delighted that the new Hope For Tomorrow Bus is now running, and that it will help many people.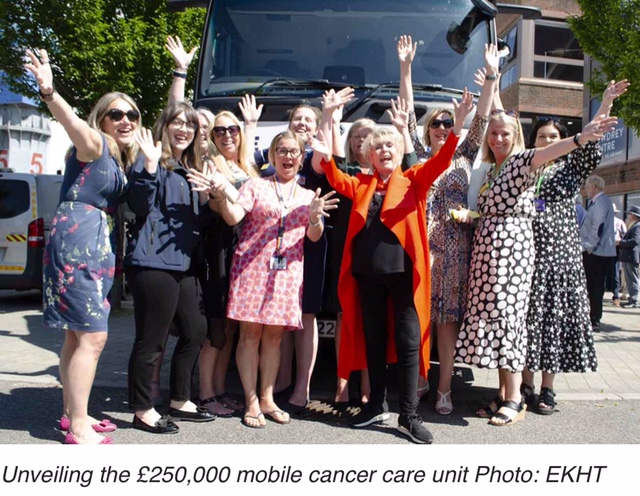 Prior to the launch of the Bus, Gloria presented Tina Seymour, the CEO of Hope For Tomorrow, with a £10,000 cheque from The Caron Keating Foundation.
Background information on Hope for Tomorrow and on its impact in East Kent and why the Charity was started.
Hope for Tomorrow was founded by Christine Mills in December 2003. Christine had a very personal reason for wanting to establish mobile cancer care. Her husband David, suffered from spinal cancer and one of the stresses the couple endured was travelling from their home to the oncology centre; a journey of nearly 60 miles. They found travelling to hospital for his treatment gruelling.
After David lost his fight to cancer, Christine wanted to do something to alleviate the anxieties of travelling to hospital for treatment. She met Dr Sean Elyan, Consultant Oncologist at Gloucestershire Hospital NHS Foundation Trust and discovered that he had vision to bring treatment closer to home. This inspired Christine to make the dream into a reality and the charity raised enough money to build the world's first mobile cancer care unit, and Hope for Tomorrow was born.
Christine worked tirelessly to build Hope for Tomorrow's fleet of mobile cancer care units and to ensure the charity helps make an impact on thousands of people on their cancer journey. She was awarded an MBE in 2012.
Sadly, Christine died in September 2018, but the team are proud to continue the work she started and her legacy lives on.
History and impact:
Caron is (and will be) based at Kent and Canterbury Hospital.
She will travel to Herne Bay, Cheriton, Folkestone and Dover to provide treatment.
The first Caron mobile cancer care unit has treated more than 13,000 patients over the past 10 years.
Hearing from patients who live in Kent and were treated on Caron in 2021, they told us that, on average, for each treatment, they saved:
Two hours in travel time
Travel mileage
Fuel and parking costs