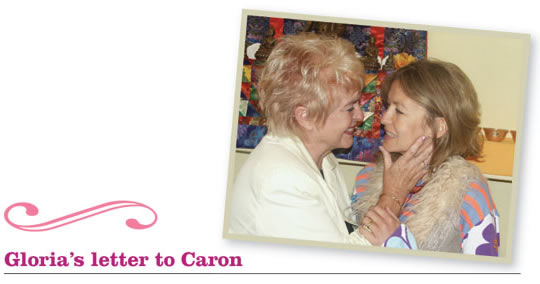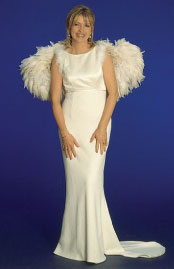 Sometimes
Sometimes, when the sun goes down, It seems it will never rise again… but
it will!
Sometimes, when you feel alone, It seems your heart will break in two…
but it won't.
And sometimes, it seems it's hardly worthwhile carrying on…
But it is.
For sometimes, when the sun goes down,
It seems it will never rise again,
But it does
Frank Brown
"My dearest and most beautiful Caron.
What a joy and privilege for over 41 years, to have you as my most precious and loving daughter.
I feel so proud to be your mum and I could not have wished for a more glorious daughter; spirited, caring, loving and full of fun.
You showered endless love and joy on our lives and brought light and rainbows to us daily.
Although our relationship has always been exceptionally deep, during the last seven years there have been constant new depths and discovery, but through all your pain and suffering you have brought such warmth, love, laughter and friendship.

Watching you bravely battle with cancer has taught me so much about positivity, tenacity, dignity, spiritual growth and integrity. You are a total inspiration, not only to your family but to all those lives you have touched.
You and Russ have given us the precious and ultimate gift in two beautiful boys, Charlie and Gabriel and you will live on through them. They will be a daily reminder of your spirit and individuality and all the values that you have taught them. Alongside Russ, Paul, Sandy, Michael and Stephen, I will forever love and look after your cherished boys, as you would wish.
I miss talking to you everyday, you were the girl I loved talking to most in the world. The heartache of losing you will never be healed, but you have left us with millions of exquisite thoughts and memories.
In Australia you used to say that you could not wait to have a cup of tea out of your favourite cup, at the kitchen table in Sevenoaks and with your incredible instinct and typical Irish timing, you made it back. Perhaps out of the endless memories, a few of the more recent ones will always shine out. Three weeks in Switzerland when, in the middle of concentrating on your healing and treatment, you also managed to organise my birthday celebrations, the Easter egg painting competition and a blissful Mother's Day just you and me. It was the first time in three years that we had spent Mother's Day together and what a glorious day we had in the Swiss Alps, scoffing apple strudel and chatting non-stop.
How I treasure your gift, which you managed to paint in Australia despite your pain and frustration; beautiful tulips in a country frame which you carefully inscribed with love and kisses and lovingly placed in your suitcase for our special day together, which was yet another example of your generosity of spirit, which you radiated in abundance. You always did believe in angels and now you are one of God's brightest and most beautiful, so fly freely, my darling Caron, in your release from pain and know that every second I will carry you in my heart.
With all my love forever, Mum."